1-877-4-SPRUCE | info@aircraftspruce.com
Aircraft Spruce & Specialty Co.
Corona, CA | Chicago, IL
Wasilla, AK | Peachtree City, GA
Brantford, ON Canada
EVERYTHING FOR PLANES AND PILOTS SINCE 1965 | 877-4-SPRUCE
AIRCRAFT LED TAILFIN NAV LIGHT 5W-1156
Part# 11-11372
MFR Model# BA15SWCS-5W-1156
Overview
Note: For Experimental aircraft use only. Not FAA/PMA Approved.

Meets FAA AC No: 20-74 requirement

GE Equivalent: 305,307,309,311,1665,1680,1691,1777,1982

Meets TC Part V - Chapter 523, Subchapter F, 523-VLA.1393

Emitter Type: SMD 5050
Total Emitters: 27
Power: 5W
Color BIN: White
Rated Voltage: 8-30VDC
Draws <400ma @ 14.2VDC
Luminous Flux: 3060LM (0 degrees), 745LM (90 degrees)
Color Temperature: 6000~6500K
2 modes: constant & fast strobe
Base Type: BA15s = Single contact with inline pins. (GE1691 & 1156)
Application: Tailfin Navigation Light replacement.
Contains 1 light bulb per pack
Dimensions: 1.9 in x 0.7 in (49.0 mm x 1.8 cm)
Weight: 0.32 oz (9 g)

Turn on first: Constant lighting / Turn on second time <3s: Fast Strobe. Switch between modes in fog/cloud etc

Application Info:
NavStrobe Tailfin Bulbs: Will replace the following commonly installed bulbs: A7079B-12, A7079B-24, or any BA15S base lamp. See "Dimensional Drawing" tab to confirm dimensions will work with currently installed bulb on your aircraft.
Dimensional Drawing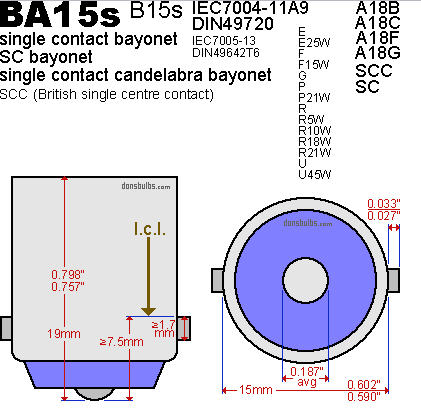 Videos
Customers Also Viewed
Frequently Purchased With
Related Items
Reviews
Updated review. This has been working well for the past year. The interference is barely noticeable after cleaning the grounds on my rudder. Heres a video of the strobe function - https://youtu.be/MUlrcmXsH5I. I have quite a few aftermarket LED replacement bulbs in my plane now and its starting to trigger the auto squelch on my comms. These bulbs are nice but to make things easy, get the quality stuff or stick with incandescent bulbs.
Jake
July 17, 2017
The one I have had some barely noticable intercom interference (ticking sound). Not enough to make me care about it. The bad part is that it only lasted a few flights. Currently trying the 4W version out. Will post a review for that one too after a few more flights. Props to Aircraft Spruce for making the return very smooth and easy.
Jake
October 31, 2016
Worked great for about a year then just died. Not recommended.
Lisa W
November 10, 2020
Agree with previous review. Lots of noise on VHF radio and cant use it on an airplane.
Paul
May 11, 2016
Puts out large amount of wide band radio interference. Unusable.
Roy L
March 28, 2015
Q&A
Please note, Aircraft Spruce's personnel are not certified aircraft mechanics and can only provide general support and ideas, which should not be relied upon or implemented in lieu of consulting an A&P or other qualified technician. Aircraft Spruce assumes no responsibility or liability for any issue or problem which may arise from any repair, modification or other work done from this knowledge base. Any product eligibility information provided here is based on general application guides and we recommend always referring to your specific aircraft parts manual, the parts manufacturer or consulting with a qualified mechanic.
Q: What is the total length of this NavStrobe LED Tailfin bulb 5W-1156?
This bulb is approximately 2" in length.
Q: Is your Aircraft LED Tailfin Nav replacement bulb meant to be mounted vertically or horizontal pointing to the rear? Part # 11-11372
Per the supplier: It makes no difference which direction the bulb is mounted. The traditional method is for horizontal installation that replaces the current tailfin position light.