1-877-4-SPRUCE | info@aircraftspruce.com
Aircraft Spruce & Specialty Co.
Corona, CA | Chicago, IL
Wasilla, AK | Peachtree City, GA
Brantford, ON Canada
THE AVIATION SUPERSTORE FOR ALL YOUR AIRCRAFT & PILOT NEEDS | 877-4-SPRUCE
START PAC® PORTABLE STARTING UNIT - 24V 2300 QC
Part# 11-06780
MFR Model# 2300QC
Overview
All In One air portable/carry-on START PAC® with built in chargers, power plug and cables.

Units are 24/26 VDC output, with universal chargers that will accept 90-240 VAC 50/60 hertz.

Note: When storing the Start Pac® for more than 30 days, remove the battery box from the charging unit and store separately.
Features
The Model 2300QC can be used for starting engines up to 1500 horse power and give four to six starts between charges.
This unit has a dual redundant 4 amp chargers.
When plugged into an AC source, 8 amps at 28VDC, is available for maintenance functions without depleting the batteries. Recharge time is approximately 3-1/2 hours.
Certain aircraft will allow the shipüfs generator to back charge a GPU. In this manner, this portable battery pack can be indefinitely recharged in the field without an AC source.
Batteries have no memory effect and can be recharged at anytime.
Made in the USA.
Specifications
26 AMP hours @ 10 Hour Rate
2300 AMPS Peak Current
Available with separate trolley
L19.2üŹ x W7.5üŹ x H11.5üŹ/L48.768cm x W19.05cm x H29.21cm
69 lbs./31 kg Complete weight with built in charger and aircraft cable
Not to be used as an aircraft battery charger.
Benefits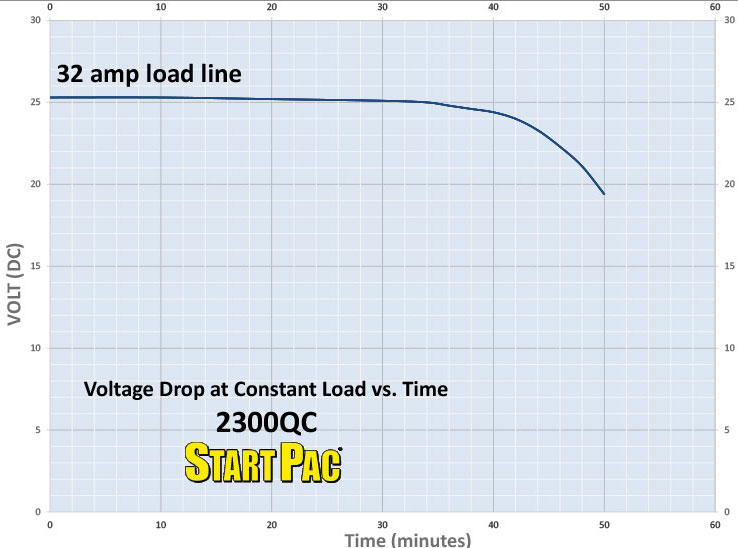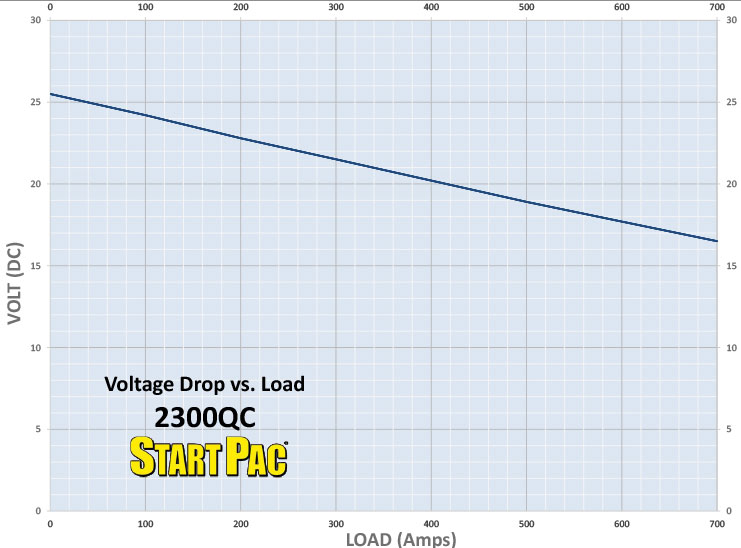 Accessories
Customers Also Viewed
Frequently Purchased With
Related Items
Q&A
Q: What are the discharge specifications on the Start Pac 2300QC? We want to use this to power a 100 amp load for 15-20 minutes at a time.
The manufacturer recommends a product like PN:11-06834 which is designed for maintenance and to power up various functions such as inverters, and avionics. The Start Pac is designed for starting engines only.
Q: How many starting cycles can you get, before having to recharge the unit?
Per the supplier: You should be able to get 3 individual starts.