1-877-4-SPRUCE | info@aircraftspruce.com
Aircraft Spruce & Specialty Co.
Corona, CA | Chicago, IL
Wasilla, AK | Peachtree City, GA
Brantford, ON Canada
FREE SHIPPING ON ORDERS OVER $350 (USA ONLY - SOME EXCLUSIONS APPLY) | 877-4-SPRUCE
START PAC® PORTABLE STARTING UNIT - 24V 1324-1 QC
Part# 11-04538
MFR Model# 1324-1QC
Overview
The new patent pending Start Pac® 1324-1QC has separate removeable batteries that can be changed in 15 seconds. This feature allows the user to change the batteries in the field without needing to return the unit to our facility for battery replacement.

The Model 1324-1QC is a 24 volt unit. The 1324-1QC will start turbine or piston engines up to 500 horsepower. This unit has a 4.5 amp charger and will provide a charge time of approximately 4 hours. These units will give two to three starts between charges. Certain aircraft will allow the ship's generator to back charge a GPU. In this manner, Start Pac® can be recharged in the field without an AC source indefinetly. Note: This unit is designed for engine starting only.

Note: When storing the Start Pac for more than 30 days, remove the battery pack from the charging unit and store separately.
Features
This portable unit is mainly designed for emergency starting in remote locations. This unit is not designed for repeated daily starts or maintenance functions.
Batteries have no memory effect and can be recharged at anytime.
Made in the USA
Specifications
| Voltage | 24 VDC |
| --- | --- |
| Total Weight | 44lbs / 20kg |
| Peak Current | 1300 A |
| Float type charger input (must be specified on order) | 90-240 VAC 50/60 hertz |
| Dimensions - Length x Width x Height | 15.5″ x 4″ x 11.75″ 39.4 x 10.2 x 29.8 cm |
| Charger type | Built in |
| Capacity @10 Amp Rate | 13 Ah |
| Battery type | Lead acid /Plomb/ Plomo y ácido |
| Approximate charging time when fully depleated (Hours) | 3.5 |
545 cranking amps for 5 seconds
495 cranking amps for 10 seconds
420 cranking amps for 20 seconds
Benefits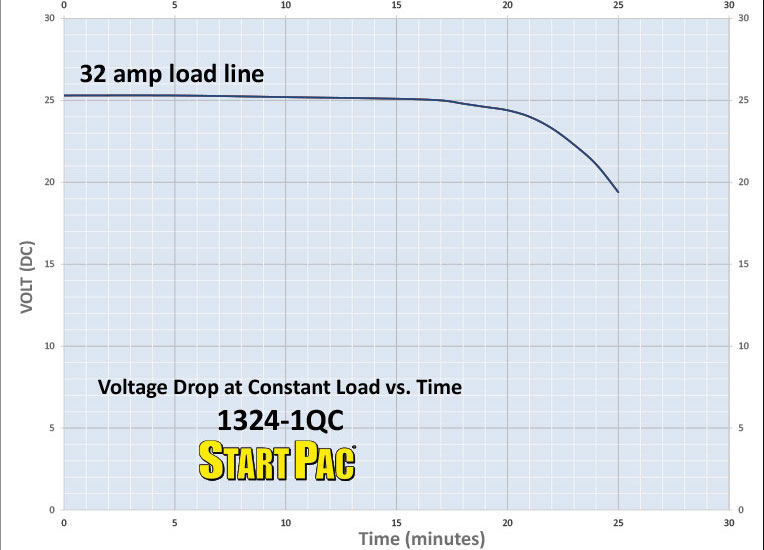 Accessories
Customers Also Viewed
Frequently Purchased With
Related Items
Q&A
Q: Is this Start Pac Portable Starting Unit 1324-1 QC considered hazardous as it relates to shipping and air freight?
No, this is not considered hazmat for shipping.