1-877-4-SPRUCE | info@aircraftspruce.com
Aircraft Spruce & Specialty Co.
Corona, CA | Chicago, IL
Wasilla, AK | Peachtree City, GA
Brantford, ON Canada
EVERYTHING FOR PLANES AND PILOTS SINCE 1965 | 877-4-SPRUCE
AVIASPORT ROTAX 503-582 DUCATI IGNITION TACHOMETER - 2 1/4 IN.
Part# 15-05884
MFR Model# IM104-2
Overview
A104 Rotax 503-582 Ducati Ignition

0-8,000 rpm Electronic connection only
Red: 6800-8000
Yellow: 0-2000, 6500-6800
Green: 2000-6500

Specifications
12 pulses / turn
Diameter: 57mm (2.25 in.)
Range: 0-8000rpm
Wiring Diagram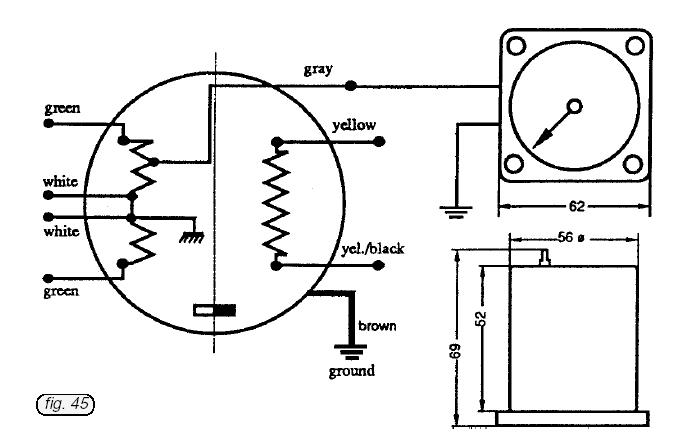 Customers Also Viewed
Frequently Purchased With
Reviews
Great company to deal with - they do what they say and great products and coms . Thanks from Paul from newzealand
Paul T
Verified Purchase

ROTAX 503 582 DUCATI W/RANGE MARKS
August 29, 2021
Great Tach and perfect for the Rotax 582. Easy to install and looks well made... Like It!!
Alex L
February 4, 2021
Had to wait on it a little longer than normal but seems to be a good product.
Dewey N
January 29, 2021
Fits in the instrument panel nice and is extremely accurate
Robert O
December 21, 2020
Quality and affordable! Fast shipping! Aircraft Spruce always comes through.
Jack L
September 1, 2020
Just EXCELLENT!Works well, no unnecessary wiring. Looks great 👌
Ivan H
July 13, 2020
Nice Instrument. Delivery service (UPS )was again terrible!
Daryl W
June 24, 2020
Large numbers and easy to see and with the proper color warning for the RPM power band specially made for the Rotax two strokes
Tecaeromex
October 14, 2018
This is a good instrument. Solid and easy to read. Fast shipping by Spruce, as always. However, it definitely will not work with a Hirth 3203. It reads 2/3 of the actual speed. There is no way to reset the number of pulses per revolution to correct it. Also, FWIW, I installed it in parallel on the tach signal line to my GRT. At about 3800 RPM, the GRT signal went to zero. So apparently it wont support a dual tach install in this situation. I am looking for a tach that is easier to read in bright sunlight than the GRT display, which is sometimes a challenge with sunglasses on. It was worth doing the experiment. Otherwise, it appears to be a good piece of equipment.
Phill
May 14, 2021
Fast delivery. I first tried to order this item from CPS but they said they did not have any in stock and did not know what the price would be. Seems strange since Aircraft Spruce own CPS.
Ken C
October 18, 2019
Q&A
Please note, Aircraft Spruce's personnel are not certified aircraft mechanics and can only provide general support and ideas, which should not be relied upon or implemented in lieu of consulting an A&P or other qualified technician. Aircraft Spruce assumes no responsibility or liability for any issue or problem which may arise from any repair, modification or other work done from this knowledge base. Any product eligibility information provided here is based on general application guides and we recommend always referring to your specific aircraft parts manual, the parts manufacturer or consulting with a qualified mechanic.
Q: Just want to confirm this is the IM-104? And 0-8000 RPMs?
Correct, this is manufacturer part # IM104-2 and 0-8000 RPM. We have updated the photo to match the description.
Q: Will this tach work on the dual Ducati ignition?
Yes, it will.
Q: Does the tach for the 503 require a 12 volt battery to operate?
No it does not require a power supply.
Q: Does this tach come with the pickup if not what pickup is used for the Rotax447?
Per the manufacturer this gauge will not work for the Rotax 447.
Q: Will this gauge work for the rotax 618?
Yes, this should work with the Rotax 618.
Q: Does this tachometer work for Hirth 3203 engine?
We do not have any experience with this tachometer with this engine. It should work but we cannot say for sure.
Q: Can you ship this to brazil?
Yes, we can export this item.