1-877-4-SPRUCE | info@aircraftspruce.com
Aircraft Spruce & Specialty Co.
Corona, CA | Chicago, IL
Wasilla, AK | Peachtree City, GA
Brantford, ON Canada
THE AVIATION SUPERSTORE FOR ALL YOUR AIRCRAFT & PILOT NEEDS | 877-4-SPRUCE
GROVE MASTER BRAKE CYLINDERS
From $298.95 to $366.00
Part
Number
Pin-to-
Pin Length
(in.)
Upper
Attachment
Lower
Attachment
Weight
PN
Price
Buy
670-1
7.5"
Clevis
Inline
5.9 oz
$298.95
670-2
8.0"
Clevis
Inline
6.2 oz
$299.00
670-3
7.5"
Clevis
90° Offset
5.9 oz
$304.00
670-4
8.0"
Clevis
90° Offset
6.2 oz
$299.00
670-8
7.25"
Clevis
90° Offset
5.9 oz
$299.00
670-13
8.0"
3/8" Eye Bolt
90° Offset
6.2 oz
$299.00
670-14
8.0"
3/8" Eye Bolt
Inline
6.2 oz
$299.00
670-15
8.0"
1/2" Eye Bolt
90° Offset
6.2 oz
$299.00
670-16
7.5"
1/2" Eye Bolt
90° Offset
5.9 oz
$299.00
670-17
8.0"
1/2" Eye Bolt
Inline
6.2 oz
$299.00
670-18
7.5"
1/2" Eye Bolt
Inline
5.9 oz
$299.00
670-19
7.5"
3/8" Eye Bolt
90° Offset
5.9 oz
$299.00
670-20
7.5"
3/8" Eye Bolt
Inline
5.9 oz
$299.00
671-20
7.5"
1/2" Eye Bolt
Cross Drilled
5.9 oz
$299.00
671-21
7.5"
3/8" Eye Bolt
Cross Drilled
5.9 oz
$362.00
671-22
8.0"
1/2" Eye Bolt
Cross Drilled
6.2 oz
$366.00
671-23
8.0"
3/8" Eye Bolt
Cross Drilled
6.2 oz
$299.00
672-1
5.0"
Clevis
Cross Drilled
4.0 oz
$299.00
672-2
5.5"
Clevis
Cross Drilled
4.2 oz
$299.00
672-3
6.0"
Clevis
Cross Drilled
4.5 oz
$302.00
673-9
7.5"
Clevis
Cross Drilled
5.9 oz
$299.00
673-10
8.0"
Clevis
Cross Drilled
6.2 oz
$299.00
673-11
7.5"
1/2" Eye Bolt
Left Offset
5.9 oz
$299.00
673-12
7.5"
1/2" Eye Bolt
Right Offset
5.9 oz
$299.00
673-13
7.5"
1/2" Eye Bolt
Slotted 90°
5.9 oz
$299.00
673-14
7.5"
1/2" Eye Bolt
Slotted Inline
5.9 oz
$299.00
674-1
7.5"
Clevis
Cross Drilled
4.8 oz
$299.00
674-2
8.0"
Clevis
Cross Drilled
5.0 oz
$299.00
674-3
7.0"
Clevis
Cross Drilled
4.6 oz
$299.00
675-1
8.0"
Clevis
Inline
8.1 oz
$330.00
675-2
7.5"
Clevis
Inline
7.9 oz
$330.00
675-3
8.0"
Clevis
90° Offset
8.1 oz
$331.00
675-4
7.5"
Clevis
90° Offset
7.9 oz
$330.00
676-1
8.0"
Clevis
Inline
9.3 oz
$334.00
676-2
7.5"
Clevis
Inline
9.0 oz
$336.00
676-3
8.0"
Clevis
90° Offset
9.3 oz
$334.00
676-4
7.5"
Clevis
90° Offset
9.0 oz
$330.00
Overview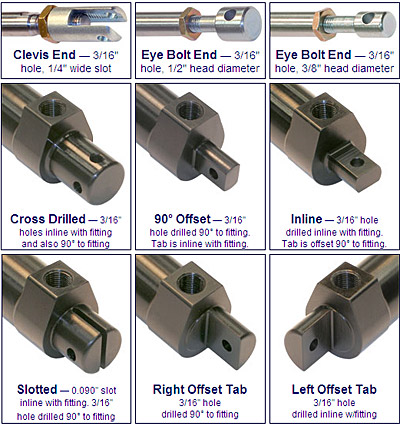 Grove master cylinders are the perfect choice for all Grove brake systems as well as use with other major brands that require a high pressure master cylinder.
Consider the following when selecting the proper master cylinder for your aircraft:

1. The style (with or without integral reservoir, etc.)
2. The pin-to-pin length—this is the length between the upper and lower attach holes.
3. The attach type for the upper end (clevis, or eye bolt)
4. The attach type for the lower end (cross drilled, slotted, etc.)
Accessories
Customers Also Viewed
Frequently Purchased With
Q&A
Q: Are these master cylinders sold individually or in pairs? Thanks.
These Grove master brake cylinders are priced and sold indidually.
Q: What are the differences between Grove 675 and 676 Master Cylinder? Regards Kevin
The Grove 676 is a direct replacement for the Cleveland 10-35 master cylinder, and has a larger reservoir than the 675. The 676 has 3.05 cu. in, compared to the 675 which has a 2.0 cu. in. reservoir. The design and operating pressures are the same for both units.
Q: Is Grove master cylinder 670-1 FAA Approved?
No, this is not FAA approved.
Q: Is the Pin-to-Pin length measured extended or collapsed?
It is measured fully extended.