1-877-4-SPRUCE | info@aircraftspruce.com
Aircraft Spruce & Specialty Co.
Corona, CA | Chicago, IL
Wasilla, AK | Peachtree City, GA
Brantford, ON Canada
FREE SHIPPING ON ORDERS OVER $350 (USA ONLY - SOME EXCLUSIONS APPLY) | 877-4-SPRUCE
JEPPESEN PILOT LOGBOOK
Part# 13-21732
MFR Model# 10001315-002
Overview
With superb craftsmanship, pages that hold up to 10 years of data, and gold strip for a personalized touch, the Pilot Logbook has become a tried-and-true favorite of aviation professionals.

Features

Crafted with durability and a highly-functional design, our Pilot Logbook has become an industry standard - made to go the distance. Large flight-time spaces arranged in accordance with FAA regulations and 520 flight entries ensure plenty of note-taking. And "easy-on-the-eyes" green pages resist ink bleed through. Bound in a scuff-resistant cover. Measures 8" x 5 1/4".
Look Inside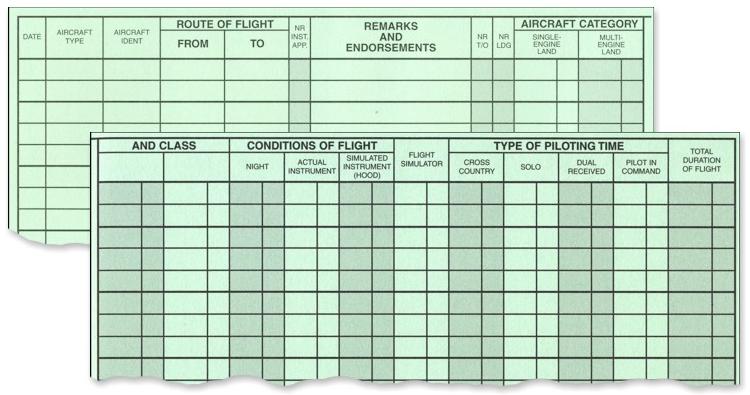 Customers Also Viewed
Frequently Purchased With
Reviews
Its a logbook, what else can I say?
Robert C
Verified Purchase

JEPP PILOT LOGBOOK
August 25, 2021
Nothing fancy, just functional.
Joe J
Verified Purchase

JEPP PILOT LOGBOOK
July 14, 2021
Great Private, Commercial, and Instrument log book.
David G
December 8, 2020
Perfect
Ray T
May 16, 2020
You provide excellent service to Pilots. Thanks.
David A
February 14, 2020
Content as needed and expected. Other similar products come with much fewer pages in the book.
Dave
June 28, 2019
Generally OK but not enough room to write notes.
Jim
December 23, 2018
Well bound, attractive looking book. Two issues for me as a commercial (non-ATP) pilot: 1) no column to enter night landings. Theres a column for takeoffs and landings, but not night vs. day landings required for currency. 2) a couple of the entry fields are super small: date and comments/remarks.
Peter C
June 22, 2017
Q&A
Please note, Aircraft Spruce's personnel are not certified aircraft mechanics and can only provide general support and ideas, which should not be relied upon or implemented in lieu of consulting an A&P or other qualified technician. Aircraft Spruce assumes no responsibility or liability for any issue or problem which may arise from any repair, modification or other work done from this knowledge base. Any product eligibility information provided here is based on general application guides and we recommend always referring to your specific aircraft parts manual, the parts manufacturer or consulting with a qualified mechanic.
Q: Do you have a picture of the inside of the Jeppesen pilot log book? What's the length of this book?
Yes, we have added a "Look Inside" tab. Please review the contents of the log book there. The dimensions of the log book folded are 8" x 5-1/4".