1-877-4-SPRUCE | info@aircraftspruce.com
Aircraft Spruce & Specialty Co.
Corona, CA | Chicago, IL
Wasilla, AK | Peachtree City, GA
Brantford, ON Canada
FREE SHIPPING ON ORDERS OVER $350 (USA ONLY - SOME EXCLUSIONS APPLY) | 877-4-SPRUCE
LYNX MICRO SYSTEM 1/4 WAVE WHIP VHF ANTENNA
Part# 11-05385
MFR Model# M094
Overview
The 1/4 Wave VHF Antenna, 26.5" in length, is tuned to the frequency range 118~137MHz for use with airband radios.
The antenna is designed for mounting into the metal or composite skin of an aircraft. For use in glass fibre structures, the antenna is supplied with a self adhesive aluminium foil ground-plane.
To maximise performance. the antenna element is tuned to 1/4 wave length and manufactured from stainless steel. The solid element makes the antenna suitable for use with faster aircraft where it is not prone to deflection in the airflow.
The lead is fitted with an FME plug at the antenna feed and a BNC plug for direct connection to a radio. The lead is one metre long (three feet).
Features
Stainless steel 1/4 wave whip design
Optimised for airband frequency
High quality crimped FME and BNC connectors
Schematic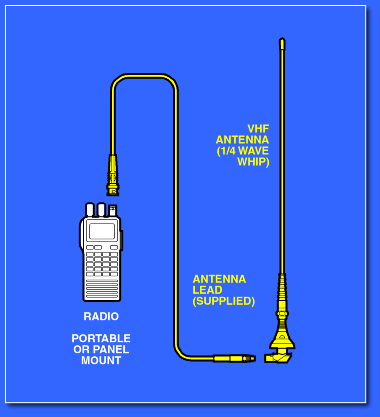 Customers Also Viewed
Frequently Purchased With
Q&A
Please note, Aircraft Spruce's personnel are not certified aircraft mechanics and can only provide general support and ideas, which should not be relied upon or implemented in lieu of consulting an A&P or other qualified technician. Aircraft Spruce assumes no responsibility or liability for any issue or problem which may arise from any repair, modification or other work done from this knowledge base. Any product eligibility information provided here is based on general application guides and we recommend always referring to your specific aircraft parts manual, the parts manufacturer or consulting with a qualified mechanic.
Q: How long is the Lynx Micro 1/4 Wave Whip VHF antenna and Short VHF antenna?
Part number 11-05384 Lynx Micro System VHF Short antenna is 14 inches long. Part number 11-05385 Lynx Micro System 1/4 Wave Whip VHF antenna is 26.5 inches long.
Q: Will this antenna work inside a carbon fiber aircraft like the Lancair Legacy?
Yes, this antenna will work through wood & fabric and composite aircraft like carbon fiber.
Q: In regard to the Lynx Micro System 1/4 Wave Whip Vhf Antenna, will this work with panel mount radios with 6-10 watt output or is it designed for hand held radios?
The Lynx Micro system is suitable for both a portable and panel mount radios. The radio connection is a BNC plug.
Q: I have a handheld YAESU FTA550 in my aircraft as a backup radio. Will this external antenna provide the required 50 Ohm impedenece on the aircraft comms band ?
Yes this antenna would work for that application.