1-877-4-SPRUCE | info@aircraftspruce.com
Aircraft Spruce & Specialty Co.
Corona, CA | Chicago, IL
Wasilla, AK | Peachtree City, GA
Brantford, ON Canada
FREE SHIPPING ON ORDERS OVER $350 (USA ONLY - SOME EXCLUSIONS APPLY) | 877-4-SPRUCE
STRATOFLEX FIRE SLEEVE
From $10.70 to $27.90
PN
Use With
Hose 124
Use With
Hose 193
Use With
Hose 111
Use With
Hose 156
10781-4 Clamp
Price / Ft
Buy / Ft
-4
-
-
-
-
$10.70
-6
-3
-
-4
22CR
$11.55
-
-4
-
-5
22CR
$11.80
-8
-
-4
-6
22CR
$12.75
-10
-
-5,-6
-8
22CR
$14.70
-12
-
-
-
22CR
$16.75
-
-10
-10
-10
32CR
$18.85
-
-
-
-12
32CR
$20.50
-16
-
-12
-
32CR
$22.50
-
-
-16
-16
32CR
$27.90
Overview
10781-4 clamp to be used to secure firesleeve material on each end over the basic hose assembly.
Specifications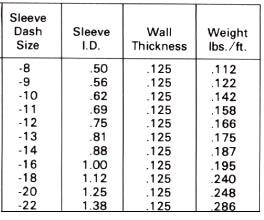 Accessories
Customers Also Viewed
Frequently Purchased With
Reviews
Lawrence E
Verified Purchase

STRATOFLEX FIRESLEEVE 2650-8
June 2, 2021
perfect fit
Scott P
March 31, 2021
Q&A
Q: What type of Stratoflex firesleeve do I need to order if my pipes are 2 inches in diameter?
Per the specifications tab on the web page, the largest I.D. is 1.38". We do not have a firesleeve for a 2" diameter hose.
Q: What is the temperature range for Stratoflex?
For this particular part # 05-21874, it is rated -65 to 450F.