1-877-4-SPRUCE | info@aircraftspruce.com
Aircraft Spruce & Specialty Co.
Corona, CA | Chicago, IL
Wasilla, AK | Peachtree City, GA
Brantford, ON Canada
FREE SHIPPING ON ORDERS OVER $350 (USA ONLY - SOME EXCLUSIONS APPLY) | 877-4-SPRUCE
STRATOFLEX FIRE SLEEVE
From $10.70 to $27.90
PN
Use With
Hose 124
Use With
Hose 193
Use With
Hose 111
Use With
Hose 156
10781-4 Clamp
Price / Ft
Buy / Ft
-4
-
-
-
-
$10.70
-6
-3
-
-4
22CR
$11.55
-
-4
-
-5
22CR
$11.80
-8
-
-4
-6
22CR
$12.75
-10
-
-5,-6
-8
22CR
$14.70
-12
-
-
-
22CR
$16.75
-
-10
-10
-10
32CR
$18.85
-
-
-
-12
32CR
$20.55
-16
-
-12
-
32CR
$22.50
-
-
-16
-16
32CR
$27.90
Overview
10781-4 clamp to be used to secure firesleeve material on each end over the basic hose assembly.
Specifications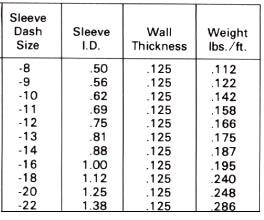 Accessories
Customers Also Viewed
Frequently Purchased With
Reviews
Lawrence E
Verified Purchase

STRATOFLEX FIRESLEEVE 2650-8
June 2, 2021
perfect fit
Scott P
March 31, 2021
Q&A
Please note, Aircraft Spruce's personnel are not certified aircraft mechanics and can only provide general support and ideas, which should not be relied upon or implemented in lieu of consulting an A&P or other qualified technician. Aircraft Spruce assumes no responsibility or liability for any issue or problem which may arise from any repair, modification or other work done from this knowledge base. Any product eligibility information provided here is based on general application guides and we recommend always referring to your specific aircraft parts manual, the parts manufacturer or consulting with a qualified mechanic.
Q: What type of Stratoflex firesleeve do I need to order if my pipes are 2 inches in diameter?
Per the specifications tab on the web page, the largest I.D. is 1.38". We do not have a firesleeve for a 2" diameter hose.
Q: What is the temperature range for Stratoflex?
For this particular part # 05-21874, it is rated -65 to 450F.