1-877-4SPRUCE
1-877-477-7823
Other Customers
Have Also Viewed:
ONEX
See Below for Parts, Pricing, and Ordering
From $4.75 to $1024.85





Click on the Part Number for Expanded Kit Components

Enter the quantity desired of each item in the Buy column.



Description
Part Number
Price
Buy
Sub-Total
ONEX AIRFRAME HARDWARE KIT
01-01192
$1024.85
ONEX NOSEWHEEL HARDWARE KIT
01-01189
$51.70
ONEX SOLID RIVET KIT
01-01190
$29.48
ONEX TAILWHEEL HARDWARE KIT
01-01191
$4.75
QUICKBUILD ONEX AIRFRAME KIT
01-01299
$638.80

Current Total
Click Add to Cart to add them to your shopping cart
or Add to Wishlist to store them for ordering later.
About the Aircraft
Onex (pronounced "One-X") is a single-seat aircraft designed to offer an even-more economical way to build and fly your sport pilot aircraft! The folding-wing design can fit into a garage, or share a T hangar with your flying buddies, be trailered on local roads, and the wing panels are easily removed for trailering at highway speeds. The Onex follows the Sonex Aircraft design and engineering tradition in offering a simple, robust, aerobatic aircraft capable of squeezing incredible performance out of lower powered engines.
Onex and AeroVee:
Made for One Another
Like all other Sonex Aircraft, the Onex is designed for use with the AeroConversions AeroVee Engine.
A New Generation of Airframe Kit
The Onex Complete Airframe Kit and Sub-Kits are the most advanced kits ever produced by Sonex Aircraft, LLC.
The biggest differences between the Onex kit and current Sonex Aircraft kits is the use of more laser-cut parts, formed parts, and machined parts. Some specific examples of these parts are the tail ribs and fuselage channels traditionally fabricated from pre-formed channel stock in the existing kits. In the Sonex, these parts must be cut out and the ends bent from 8 foot long z-channel blanks. In the Onex, the parts are provided cut to length and fully-formed with pilot holes. This enhancement not only saves construction time and improves accuracy, but also greatly simplifies the Onex plan set with many fewer part details required for builder fabrication. This results in fewer plan sheets.
The Onex is the first kit produced by Sonex using "matched hole" assembly, meaning items such as the Onex tail substructure can be cleco'd together right out of the box. The Onex kit also features more CNC machined parts, and the impact in-terms of time savings of the Machined Angle Component Kit upgrade is greater with the Onex than other Sonex Aircraft kits.
Another enhancement of Onex vs. Sonex kits is that the Pre-Assembled Main Wing Spars are riveted like the Sonex Spars, but also have the attach bolt holes drilled up to final size. The 3-part wing spar is drilled in a fixture and matched as a set, ready to be installed in the fuselage. These assemblies are also up-drilled and ready for the remaining hardware to be installed by the builder.
Features:
Two Ways to Build: The Onex can be built using a Complete Airframe Kit, or via Sub-Kits.
More Versatility Than Ever: The Onex folding wing feature adds tremendous versatility to the aircraft's design, but there are additional features making the Onex design more versatile. The Onex cockpit is enlarged to accomodate a wider range of pilots than ever before, and Onex rudder pedals can be installed at varying locations, allowing builders to adjust their distance from the seat; Landing gear configuration can also be more easily changed with a universal repositionable main gear and a universal engine mount that does not need to be changed when switching between standard gear and tricycle gear configurations.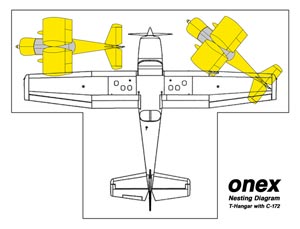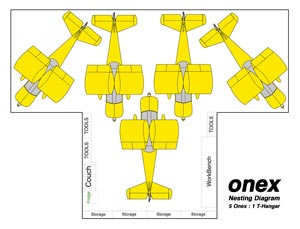 Length: 16' 5" [5.00 m]
Wing Span: 20' [6.09 m] (Option for 18'9" [5.72 m])
Wing Area: 84.4 sq. ft. [7.84 sq. m] (Option for 78.0 sq. ft. [7.25 sq. m])
Tail Configuration: Conventional
Tail Height (Std Gear): 53"
Tail Width--with tail tips: 77.5"
Total Width w/ Wings Folded: 94" (interior width required for enclosed trailer)
Main Gear Width: 62" (with wheel pants)
Air Foil: 64-415
Primary Structure: 6061 aluminum
Cockpit Width: 27 in.
Fuel Capacity: 15 US Gal. [56.8 Liters]
Stall Speed (full flaps): 45 mph [72.4 km/h]
Stall Speed (clean): 50 mph [80.5 km/h]
Max Flap Extended Speed (Vfe): 110 mph [177 km/h]
Maneuvering Speed: 151 mph [243 km/h]
Never Exceed Speed (Vne): 216 mph [349 km/h]
Note: Meets FAA Sport Pilot Regulations at maximum continuous power at Sea Level, as required.